There are many reasons why you might want to update your home's flooring—perhaps the flooring you have is no longer practical or you want to do what you can to eliminate allergens in the home. Or maybe you hope to increase your home value for the day—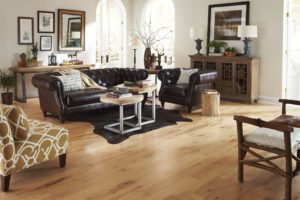 either around the corner or down the road—when it's time to think about moving.
Hardwood flooring, according to realtor.com, can add up to 2.5% value to your home. So if your home is valued at $100,000, your home value gain is in the neighborhood of $2,500.
Furthermore, when it comes to selling, there might be more cost in not updating your floors, particularly if you live in a neighborhood where everyone else has already taken the plunge. The value a potential buyer sees in your home can decrease significantly if your home is the only one on your street behind the times in terms of flooring.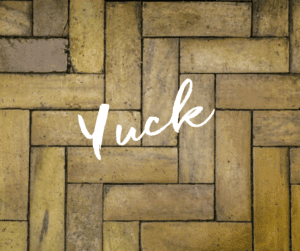 That said, not all hardwood flooring is desirable hardwood flooring. Perhaps your home was built with it, and shows the result of more than a decade of wear, or the stain or finish reflects previous trends that have since lost their appeal. Or the original hardwood flooring might be underwhelming or dated.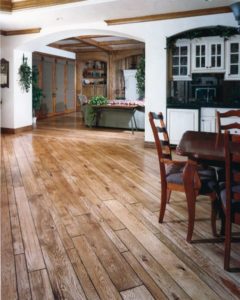 While hardwood flooring is going to get you the most bang for your buck in terms of ROI, whether or not you choose hardwood can come down to your intent. Many people find vinyl flooring to be more economical and practical for what they want, as vinyl can mimic a range of materials, giving you a larger range of options for setting the design aesthetics for your home. Want hardwood? You can get the look of hardwood with the added benefits of being water—and stain—resistant and versatile. Because it stands up so well to water, vinyl is a popular selection for moisture-heavy areas of the home, namely the bathrooms and the kitchen. Indeed, updating the vinyl flooring in either of these areas is an easy, cost effective way to update their look and feel.
Whatever your intentions for updating—whether you intend to enjoy your new hardwood floors or you want to add value to your home in anticipation of listing it—Classic Wood Floors offers a wide range of products from some of the most trusted vendors and manufacturers in the industry. Give us a call and let us know the aesthetic you're looking for and your goals for your home, and we'll help you find the flooring you need to make those goals a reality.