Hardwood floors have a universal appeal. They can range from farmhouse chic to elegantly timeless. While being versatile and durable, they do need the correct care to maintain their lifelong beauty. With preventative hardwood floor maintenance, the incomparable charm they bring to your home can last for decades. Taking care of hardwood floors will reward you aesthetically as well as financially.
Taking Care of Hardwood Floors with Prevention
As simple as it sounds, prevention will be the easiest and least expensive way to maintain your hardwood floor's beauty and help it stand the tests of time. Doormats, strategically placed inside all exterior doors, will prevent family and guests from unwittingly dragging soil into your home.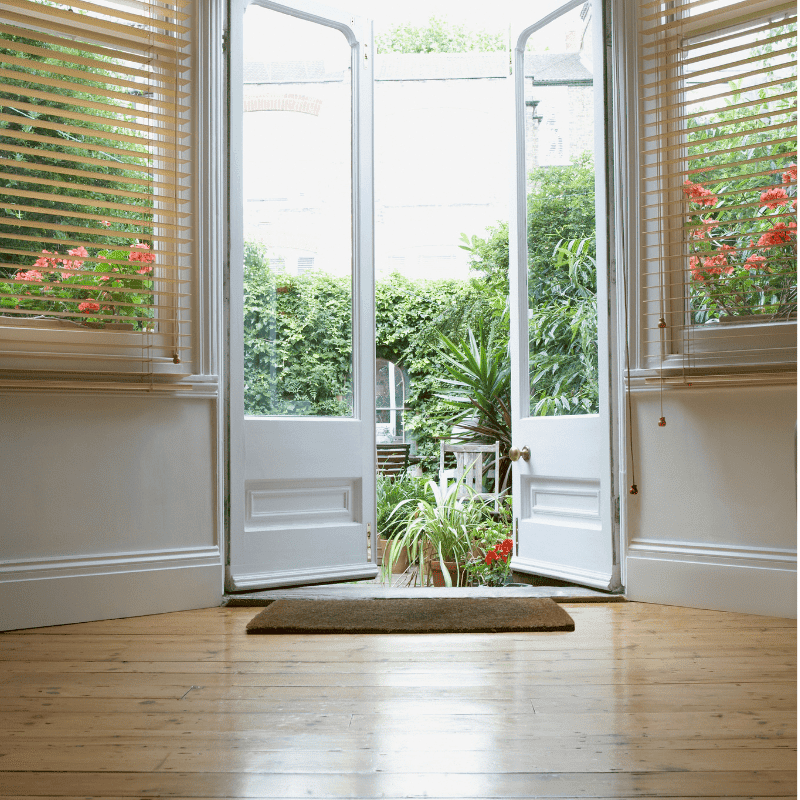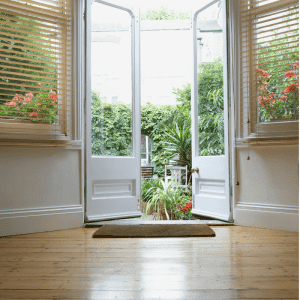 An additional doormat outside on which visitors wipe their feet can greatly help as well.
Most grit and grime are tracked in on the soles of your shoes. Don't be fooled. Your shoes don't have to be covered in mud to track dirt in. Shoes can still transport small sand-like particles. These particles and grit, slowly wear your floor down, especially in high traffic areas.
Using the right size doormat or rug will cut down on the time you need to spend cleaning your floors. And how many of us can use more time? The key is to make sure the mat is large enough to walk across with both feet at least once before stepping onto your hardwood floor. Remember to vacuum the inside rugs and shake out the outside ones. They accumulate grime; Grime that would have ended up inside your home and on your floor.
Prevent Scratches on Hardwood Floors with Furniture Floor Protectors
Another noteworthy tip for prevention and protection of your hardwood flooring is to consider adding felt floor protectors under furniture. These simple little stick-on or nail-on pads can be picked up almost anywhere. Unnoticeable and easy-to-apply, these little jewels will prevent scratches on hardwood floors. Replace these every 6-12 months, as they too can attract dirt and grit.  Even with these, it's best to lift furniture instead of dragging it across your hardwood floors.
Hardwood Floor Duster
Your entryway rugs will keep considerable dirt from coming into your home. However, you will also need to sweep or dust.  Sweeping or vacuuming twice a week is best, if possible. Nothing beats a good broom and dustpan. A few strategic swipes with a fine bristled broom or cloth loop dust mop will do the trick. A cloth dust mop will help catch most of those pet hairs too.
Avoid microfiber pads and cloths. They will lift splinters and expose unfinished wood that will then be susceptible to moisture and dirt. Resist the urge to treat the pad with a floor cleaner or duster spray.
One alternative to using a floor duster is a vacuum. Not just any vacuum will do though. If you choose to vacuum instead of dust mop, make sure to select a type that doesn't have a "beater bar" on the end piece. A typical vacuum (the one on the left), also called an "upright", has a "beater bar" that can damage or chip the protective surface of your floor. Choose one with the pull-behind canister and separate bush head on the end (the one on the right). This "old fashioned" type works the best for hardwood floor maintenance.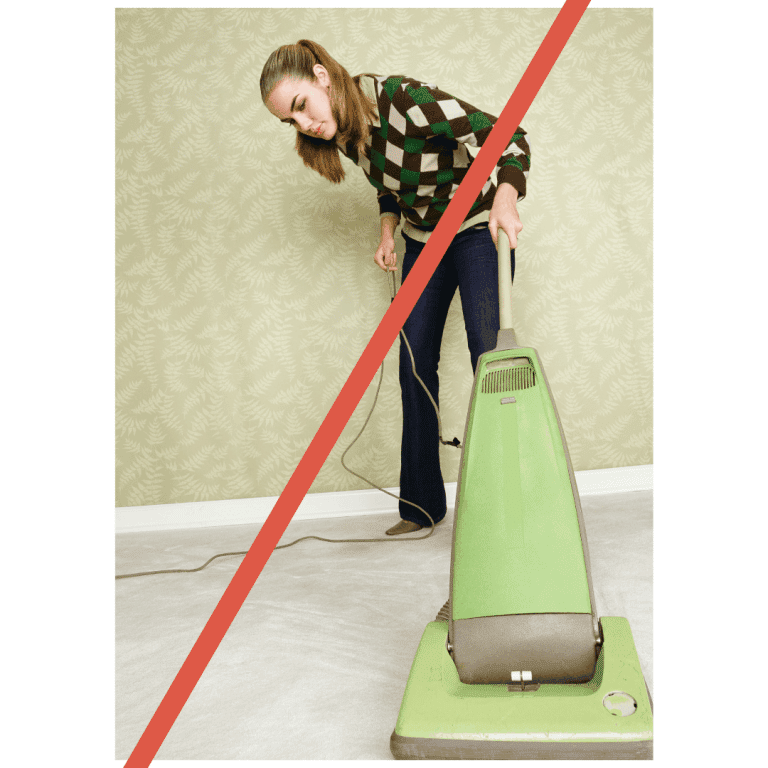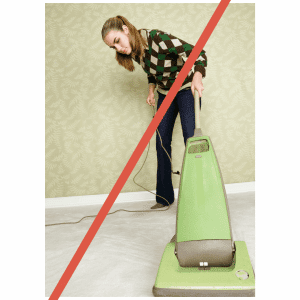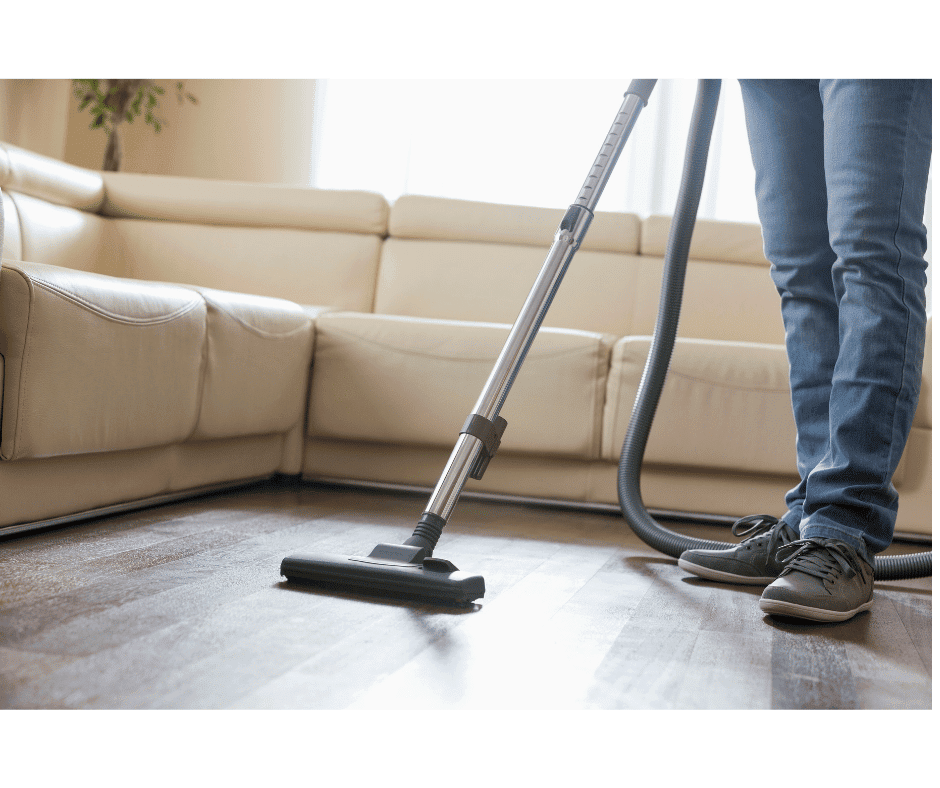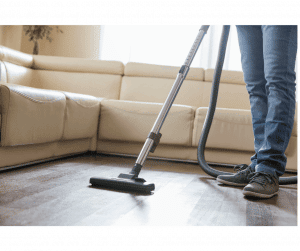 The bristles will help to brush off the dirt from the surface and the vacuum will suck up the debris.
Robotic Vacuums – Best Way to Clean Hardwood Floors
Have you considered a robotic vacuum? If you have the means and desire, a robotic vacuum can do some of the work for you, even when you are not home.  A robotic vacuum can gently sweep your hardwood floors with little to no assistance.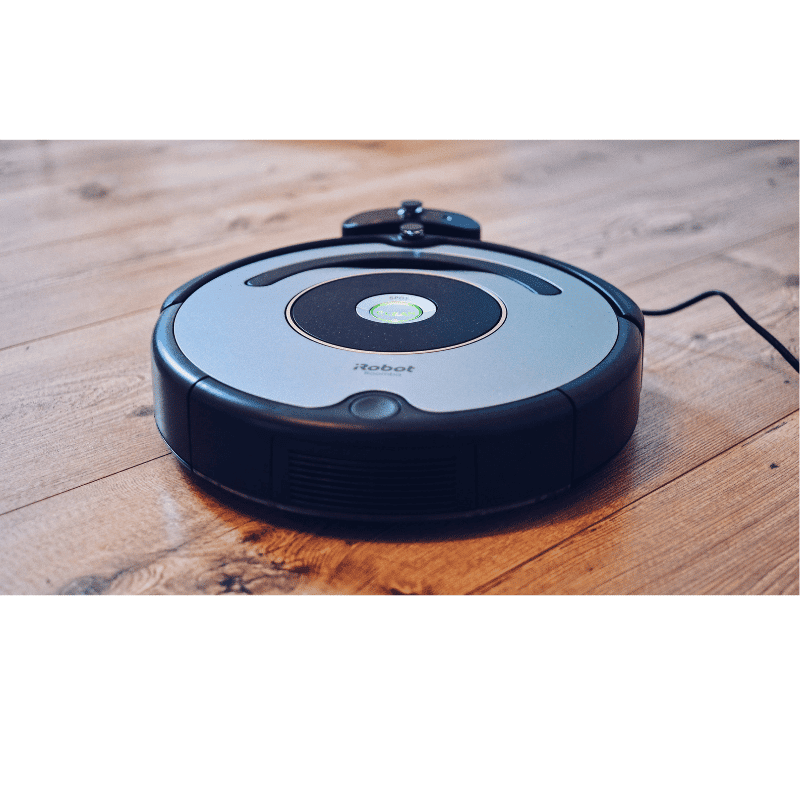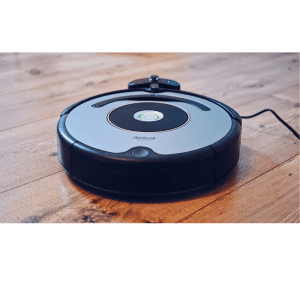 No matter what you use, sweeping frequently removes loose dirt, pet hair, and other particles. Some individuals go so far as to recommend a no-shoes rule in their home.  This reduces the amount of dirt and allergens tracked into your home and across your flooring. This is popular in many countries. Taking care of hardwood floors can be as simple as removing your shoes at the door. Speaking of shoes, checking worn heels for damage, especially women's high heels, can spare your floors minor damage too.
Robot Mop for Hardwood Floors
If a robot vacuum is good, would a robot mop be just as good? The answer, unfortunately, is: no. These are good for vinyl, but not wood. These tools replace a mop and bucket and a bucket is not a wood floor maintenance tool.
Wood Floor Cleaners
One rule of thumb to remember with hardwood floor maintenance is that wood and water don't mix. A water spill won't damage your floor, but standing water can. Knowing this, spills should be wiped up. Wiping up spills quickly avoids potential water and moisture damage. In addition, avoid using water to clean. This definitely rules out steam cleaners. Water and heat can permanently damage your floor. With hardwood floor cleaners, always follow the manufacturer's instructions and wring out the rag, sponge mop, or cloth reusable pad.  Remember, less is more when using a product. Be sure to wipe up any excess liquid. We will recommend the best hardwood floor cleaner for your home after the installation of your hardwood floors.
Worn or Just Dirty?
Sometimes hardwood flooring appears to be worn and in need of refinishing, when in reality, it's just dirty. Popular and trendy white and bleached floors need more attention. Like white carpet, they show dirt more readily and show damage more quickly than darker finishes. Wire brushed or distressed wood can more easily trap dirt. Higher traffic areas will be more prone to dirt. Manufacturers recommend a stiff bristle broom and more frequent vacuuming. To properly clean your hardwood floor, it's important to know what kind of finish it has. Wood floors are still among the easiest floor coverings to maintain and keep clean, but misinformation can mean the difference between disappointment and decades of enduring beauty.  Contact us at Classic Wood Floors to learn what the manufacturer recommends to keep your floors looking great.
Hardwood Floor Maintenance
Your flooring is second only to your walls in surface area in your home. There are wood floors in some homes that are over 100 years old. The key is for them to be properly maintained and protected. If your floors are in high traffic areas, or you see areas worn or loosing color, then they may need to be refinished. Many types of hardwood flooring can develop a patina as they age. A patina is the lovely color that slightly changes wood, and some metals, with time. This patina does take years and sometimes decades to develop. It improves the appearance of your floor as time goes on. This is not to be mistaken with dirt. Once you see an older hardwood floor's patina, you will understand the difference. If you believe your hardwood floor has a localized stain, check out this stain removal guide from NOFMA.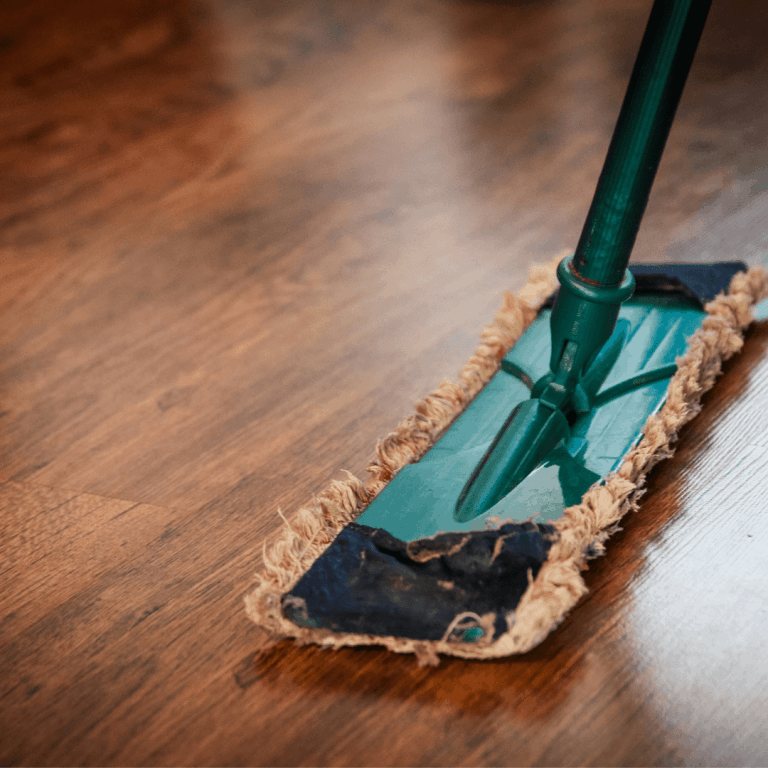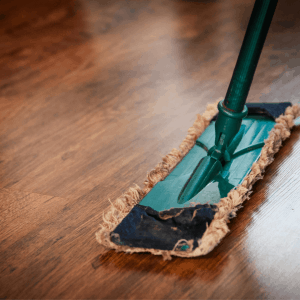 Routine maintenance for wood flooring is really very easy. Simply put: sweep, dust mop or vacuum. Damp mop with a hardwood floor cleaner when needed. Hardwood flooring truly is the easiest of all your floor surfaces to keep clean and looking like new, year after year. With the right tools and products, it can last for the life of your home. No other flooring has this kind of endurance or the same potential to look better as it ages. Classic Wood Floors will make sure you have all the information you need. Let our staff show you all that hardwood floors have to offer.