Hardwood Flooring Plank Width And The Perception Of Your Room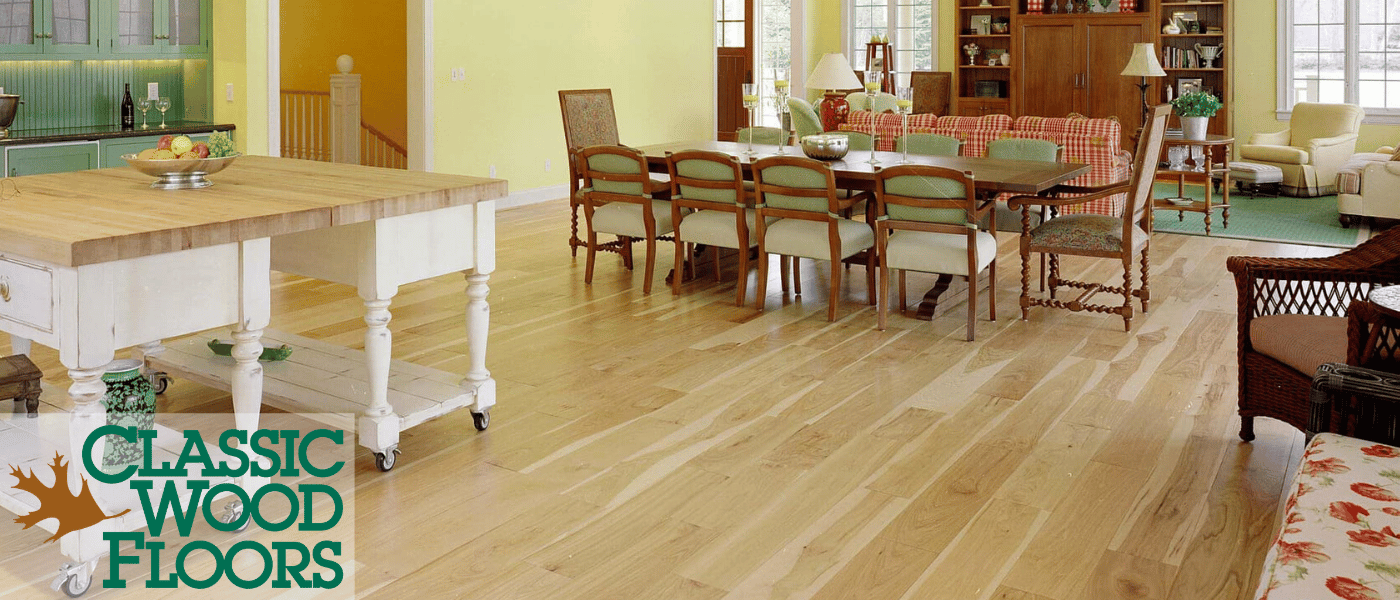 The flooring plank width you choose can have a huge impact on the perception and appearance of your room. You can make the room appear smaller, bigger, busy, calm, or cluttered, simply through your selection of flooring plank width and position.
How To Select The Best Width For Your Hardwood Flooring
Deciding what you like best in flooring width is the first step. Do you like wide wood planks, narrow width, random width hardwood flooring, or a variation? Do you like a pattern or border? Take the time to consider your preferences generally, since you will be living with your selection for many years to come.
Is there something about the room that you want to highlight or minimize? Is the room spacious, but you want to create a more cozy feeling environment? Is the size modest or even small, and you want to give the illusion of space?  These and other factors will help you make your ultimate decision. Your choice of flooring plank width can help you accomplish what you want for the space, while matching the overall feel of your home. With a little guidance, you can choose the right wood flooring plank size to accomplish your home design goals – and avoid making any expensive mistakes.
Wood Flooring Trends: Past And Present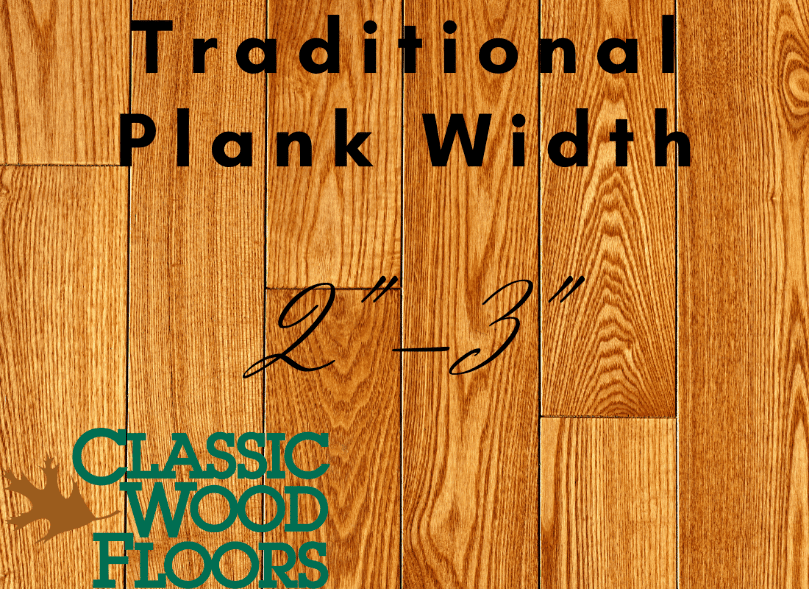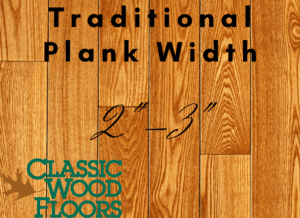 Traditional flooring typically uses 2 ¼ inch to 3 inch wide planks. This style works well with most décor and has clean, consistent lines. It's versatile and has general overall appeal. But over the years, as trends have changed, many have come to prefer wider plank flooring. Wood plank flooring widths now vary from 3", to 6", to even 24". For this look, the wider you go, the fewer seams you'll have on your flooring.
Wide plank wood flooring is all the rage these days, however this trend doesn't fit with all room sizes and layouts.
Wood Flooring Plank Widths For Smaller Rooms
If you have a small room, but love the look of wide plank flooring, you can still achieve this look. It just may not be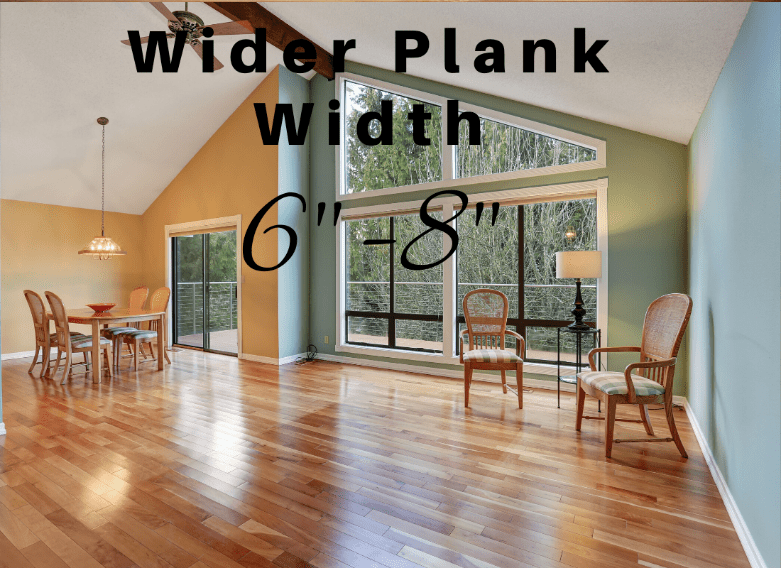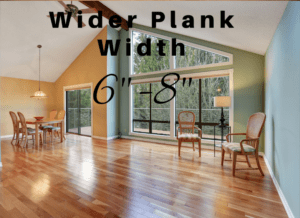 the ultra-wide plank size you envision, because too large a plank can make a small room look out of proportion.
For these smaller rooms, it is best to choose a 6" to 8" width and no larger. A 10″ wide hardwood flooring plank would overwhelm a modest room. If you do go with a wider plank in a small space, use a lighter colored wood and stain to help the room maintain a roomy appearance.
Wood Flooring Plank Widths For Larger Rooms
You have quite a bit of freedom in large rooms.
If you choose a wide-width plank, you have to decide if you want all the flooring planks to be the same width or if you prefer varied width wood flooring planks. Using random width wood flooring is a creative way to add visual interest.
If your goal is to further increase the visual size of the room, you can install the planks parallel to the longest wall.
Wood Flooring Planks For Narrow/Long Rooms
Narrow rooms can appear wider if wide planks are used and laid across the space, perpendicular to the long wall. The wide plank look works perfectly here and opens up the space. It pushes out the inner walls and gives the appearance of a spacious hall.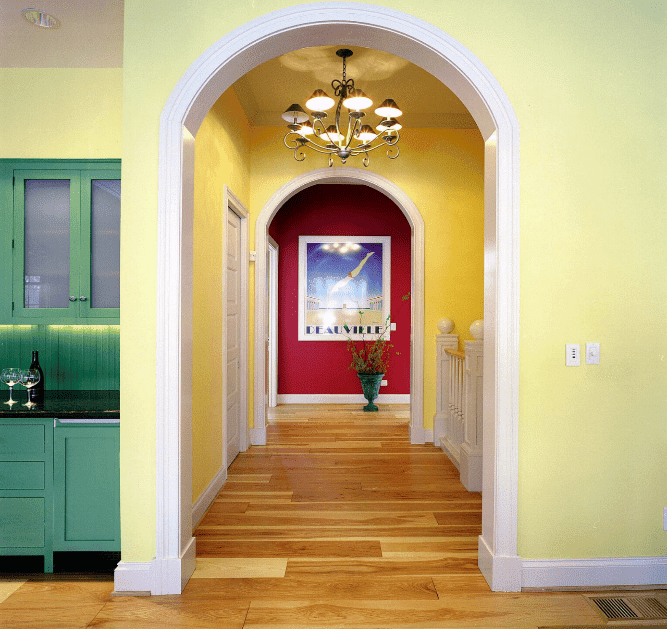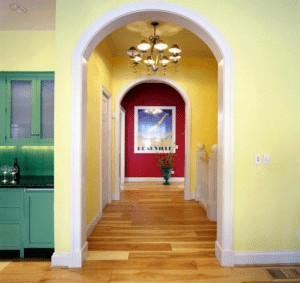 If this look doesn't appeal to you, lay them lengthwise, but use the 8" or wider wood flooring planks.  This look works with both varied length and uniform length wood flooring. Another option is to create a border. This can reduce the visual length of a narrow room. Check out these examples on our gallery page to give you an idea of the final result.
Summary Of Wood Flooring Plank Width Options
There are many things that affect the look of your room, such as décor, wall color, and room size. You can't change the actual dimensions of a room without remodeling, but you can create the illusion of a spacious or cozy room. Remember that wood flooring plank width is a personal choice; there is no right or wrong answer.
However, considering these hardwood flooring options ahead of time will help you make the right hardwood floor width choice for your space. Small and medium-sized rooms do best with a small or average-width plank, while wide plank hardwood flooring can create a visually stunning element in a large room.
The plank size you choose can have a huge impact on the perception of your space. Whether you choose the increasingly popular wide plank wood flooring, a mixed width hardwood flooring, or the classic narrow plank option – let Classic Wood Floors help guide you. We have varying options in hardwood flooring plank width, as well as options in vinyl and engineered flooring. We're here to help you choose the right flooring for your home and style.  After all, we want you to love your floors for years to come.