After going around and around for months, you have finally made the decision. You want to put in hardwood flooring. Save time and worry with this simple guide to help you navigate the choices.

Solid Hardwood or Engineered Wood flooring
The first selection you will need to make is whether you prefer solid wood or engineered wood flooring; a special product that is made up of both hardwood and plywood. While both add value to your home, solid hardwood flooring is exactly that; solid hardwood. Each plank is one single solid piece of wood.
Engineered wood, on the other hand, is a layered product with a hardwood veneer. This has the natural beauty and look of solid wood, with a middle core of 5-7 plywood layers. It is still real wood, but it's a great option in rooms that are subject to moisture. It works well over concrete slabs and radiant heating systems. This type of flooring is very affordable, but only certain types can be sanded or refinished throughout the life of the floor. If this refinishing option is important to you, let us know. There are certain engineered options, like thicker veneers and certain wood types, which work best. For those who love the look of extra wide planks, this is the best choice.
Prefinished or Site-finished
A selection that has increased in popularity over the years is prefinished wood flooring. It comes with a factory-applied finish. It is delivered to your home with the stain and topcoat already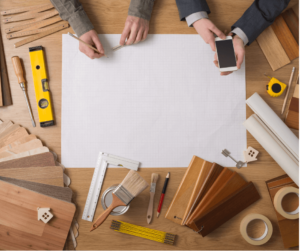 applied. The benefit of this is that you know exactly what you are getting. You can bring a sample into your home and see it in your light and with your own décor. There are no surprises. Even though you pay a little more up front, you don't have finishing costs. Overall, it is cheaper. The best part is that it can be walked on immediately after installation. You don't have the unlimited finish combinations that site-finished products offer, but more than enough to fit your taste and style without getting overwhelmed.
Site-finished wood flooring options come as planks with a raw face, wood without finish or paint. They are installed as bare wood planks.  This allows for customization that many homeowners, but especially designers, prefer. The exact finished product is a combination of wood type, stain and topcoat. Envisioning these three components is not an exact science, but a creative process. Some don't like the uncertainty that comes with these variables, others love it.
A little detail some will appreciate is that since the whole floor surface is sanded together, it's smoother and more level than a prefinished floor.
There are pros and cons with both, so selection is a matter of preference.
Wood Types
Selecting the type of wood you prefer is an important decision. Each species has a distinct grain pattern and design unique to its type. Oak is abundant and one of the most popular choices for hardwood flooring. It is very durable, takes stain well, and is beautiful. White oak is another favorite as well as the pinkish undertones of red oak. A softer, but lovely choice, walnut, has a deep color that makes it a perfect option for those that prefer a darker finish. All types have their unique color and grain pattern.
Grain Pattern
Grain pattern is not an option which homeowners usually get to determine; however, it does warrant mentioning. Logs cut for hardwood flooring are cut in four different ways: plain sawn, quarter sawn, rift sawn and live sawn. Hardwood flooring customers will not be offered these choices by name, however, we at Classic Wood Floors are experts in creating floors with each of these cuts. Depending on the look you are seeking as well as the grain pattern you desire, we will help you find the perfect look for your home.
Width
The width of your plank can change the look of your floor and room. Wider planks mean fewer seams that you can see. Wider widths show more of the natural beauty of the wood. Some species have more differentiations than others. Plank widths have changed over the years. Older buildings show that plank widths were once random, depending on what wood was available locally. All pieces and parts were used and nothing was wasted. As time moved forward, planks became more uniform. Whether you prefer uniformity or irregularity will depend on your aesthetic vision for your space.
Grade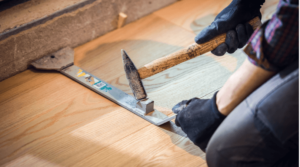 This selection is an important part of the overall look you are creating. Grade is determined mainly by the amount of character in the wood. Some see flaws, while other see "character". With prefinished wood flooring, the manufacturer chooses the color, grade, and stain. The choice is usually simple.  With on-site finished flooring, however, the decision is all yours. Keep in mind how you want your flooring to look when it's completed. Black floors work best with simple décor and soft colors. Lighter floors make smaller rooms look more spacious. The new grays and whites are great options. Check out our NOFMA grade page to see the differences.
Type of Finish
Hardwood flooring finishes are now available in many options. A good choice if you have a busy, high-traffic home, is hand-scraped or wire-brush finish. These begin with imperfections that hide new wear and tear. Lighter colors tend to hide wear and tear better as well. Oil sealer and hard wax finish is an old finish style made new by adding in a brown-hued tint.
Glossy high shine finish is a popular choice and the perfect option for showrooms and rooms where the floor is the decorator's main focus. This finish will highlight your décor and furniture.
Color
With almost limitless colors to choose from, selecting the color of your hardwood flooring can be both fun and challenging. You know that it will be enjoyed for years to come and you want to be certain you will love it. To ease this process here are a few guidelines to help.
Choose tones similar to your wall color. Paint first if you are changing your décor.  Shades of brown are always popular whether your décor is traditional or chic. Reds and reddish browns add warmth and character if that is your style. Light grays and whites are the perfect match for beachy homes and contemporary décor. Darker wood flooring works best for large rooms or rooms that appear large with high ceilings. Different levels of black and walnut can be striking if you want a modern look. As with all colors, take samples home. You will be glad you took the extra time for this.
Textures
With the options in this category increasing, texture is pushing the limits to a new level.
It's a beautiful way to add additional interest to your floor and room as a whole. Smooth, hand-scraped, distressed, and wire-brush are textures that add design elements that were never available years ago.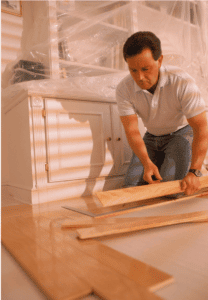 Smooth is perfection at its best. It shows the natural beauty of the wood and the grain. It is less forgiving of scratches and dents so it may not be best suited for a family or a home with large pets.
Scraped is a newer option that adds in imperfections. It fits well with modern and traditional décor. This choice offers a gentle hand-scraped look all the way up to machine scraped.
Wire-brushed is a distinct look. If you appreciate strong visual appeal, this is for you. The process actually removes a portion of the soft wood grain, leaving the older, harder interior wood grain.
Distressed texture is exactly what it sounds like. It is created with dents and made to recreate an aged floor that looks lived-on. It's a perfect texture for high traffic households. This actually camouflages any actual dents and scratches that happen. With this texture option, you have many choices from lightly distressed hardwood to an extremely vintage look.
All of these textures are stunning in their own right. Let us show you examples side-by-side to find the look that suites your taste and home.
Samples
Consult the hardwood flooring professionals at Classic Wood Floors for help in deciding just the right combination of wood, grade, plank width, color, finish and texture for your home.
Once you have narrowed down your flooring choices, we recommend you bring samples home. Move them around the room. Look at them next to your furniture in natural light during the day, and examine them again in the evening with artificial light.
You can't go wrong in your decision to put in genuine hardwood flooring. We hope this selection guide will help you find the hardwood flooring you have always dreamt of. Our knowledgeable staff is here to help! We will help you find the perfect floor for you and your home.