Hardwood remains the number one flooring choice for builders and homeowners alike. And why shouldn't it? Its many, many benefits include near universal aesthetic appeal, adaptability to numerous tastes and styles, increased home value, and how it performs in shared living spaces. Choosing hardwood flooring is the first step. The other considerations—look, function, and performance—will depend on your personal tastes, the look you hope to capture, and how you will live on it. If kids or animals will share the space as well, or if it'll just be you and a partner. Or just you. Here are some of the most popular flooring trends in hardwood today.
Dark Hardwood Flooring Trends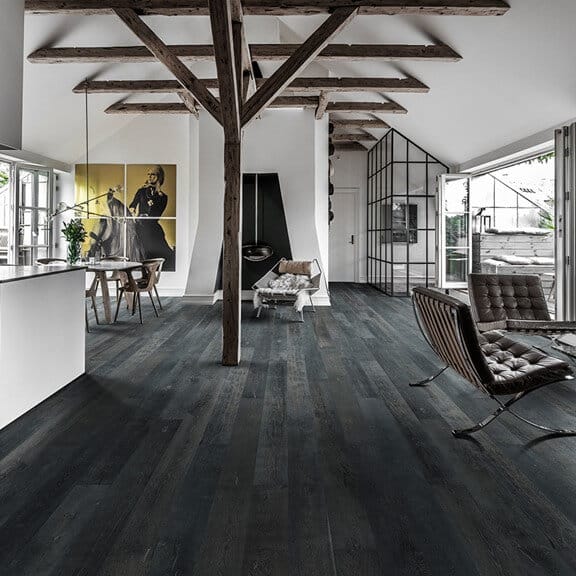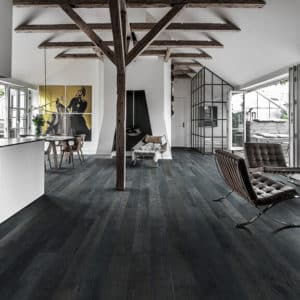 The trend toward darker floors is one that has grown in prevalence over the last few years. These darker floors stick to cooler tones rather than those with red, brown, or yellow undertones. If the wood itself is brown, it likewise has no red undertones. Grays are also incredibly popular, both as a base color and as a tone to add to dark brown to add depth to the color. But if that's not dark enough for you, you can always blend ebony and dark walnut or pair your flooring with the True Black stain which, as you might imagine, is the blackest stain available.
While this trend is going nowhere fast, you should know that the darker floors are going to show dust (like really show dust) and they can be a challenge to clean.
Light Flooring and Whitewashes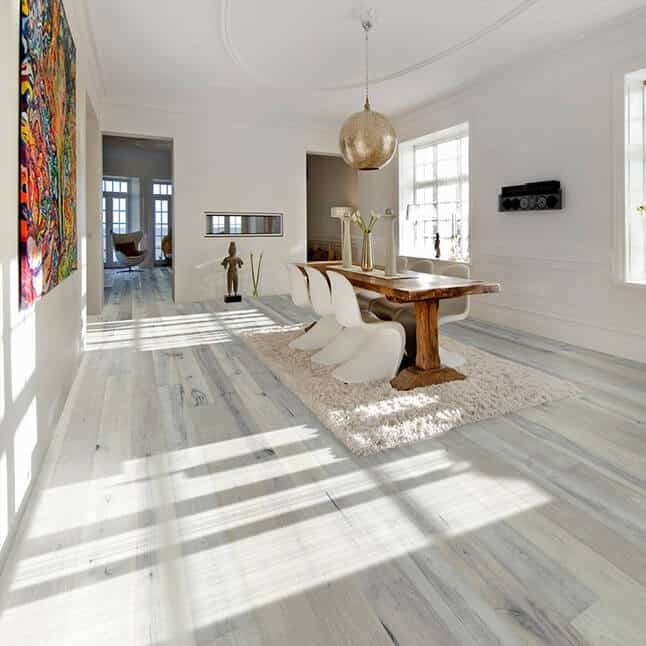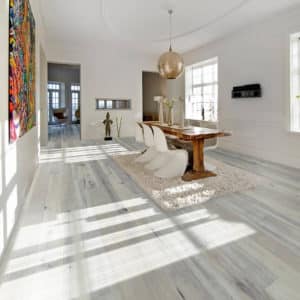 If super dark is trending, then super light has to be as well. Those are just the rules. However, like in the darker floors, the warmer undertones like red and yellow are more frequently replaced with cooler tones.
Insofar as whitewashes, the whitewashed floors of today are more matte and subtle than those some of you might remember from the 80s. The wood itself looks more linear with mineral streaks, which helps define it as its own unique style, one related to but independent of the traditional heavy graining seen on red oak.
Gray and Gray Blends Flooring Trends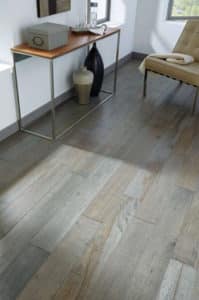 This shouldn't be a surprise. What is, after all, exactly between light and dark? Gray. You're liable to see gray flooring in all kinds of materials, and wood (or material made to look like wood) is no exception. These can be difficult to refinish. So, if you opt for gray, we recommend finding someone who has experience in refinishing gray wood floors to rise to the challenge rather than attempting to tackle it yourself.
Trending Flooring Finishes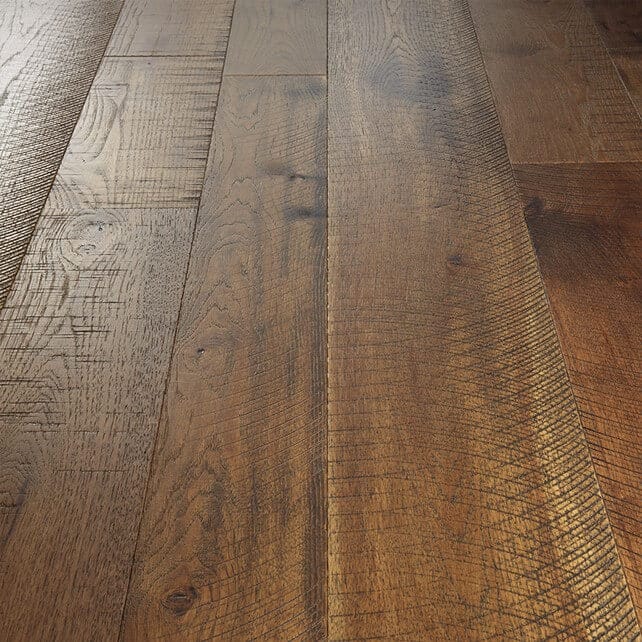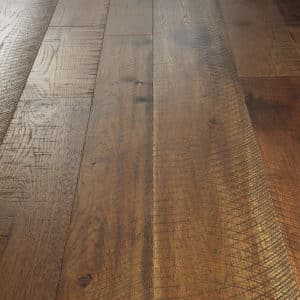 Natural is in, with matte and satin finishes providing the most popular sheens. Unlike semi-gloss or glossy finishes, which are difficult to maintain, show damage easily, and look rather dated, the flat finishes are both in style and last longer. Likewise, higher grade and more environmentally friendly polyurethane/oil finishes are more in vogue than their respective competitors. While this will add a bit of cost upfront, the payoff is a finish that is extremely durable in addition to looking good, drying more quickly, and letting off less of a smell.
Insofar as textures go, wire brushed is the preferred approach. It's a more modern take on distressed, providing the wood a truly classic look by enhancing its grains as well as concealing everyday wear and tear. Wire brushed wood is also not as rough or wavy as distressed wood, though it does have texture. Most wire brushed wood is available in two tones, typically featuring a darker coat as the primary color with a glaze of a lighter color. Monotone wire brushed wood is available, though, if that's the look that suits you best!
Trending Flooring Material & Styles

There's no other way to say it—solid hardwood lasts. It really lasts, like more than a century. It's not uncommon for homes built in the 1800s to have the original hardwood that just needs a refinish every now and then. As such, people tend to select solid hardwood over the less expensive alternatives like engineered wood or bamboo. There are broader possibilities with solid hardwood as well—unlike engineered hardwood flooring, which generally can't be sanded or refinished, solid hardwoods can be updated as tastes evolve. They're also easier to maintain and restore when subject to normal wear and tear.
In terms of styles, wider planks are currently in vogue, as they create the illusion of a larger space. Wide planks can be found in a range of flooring style aesthetics, and are a part of the increasing movement toward simpler layouts rather than planks of multiple sizes, or the chevron patterns.
Whatever your color choice, preferred style, or finish, Classic Wood Floors is here to help bring your vision to life. Bring your questions to us. We'll help you find the right answers.