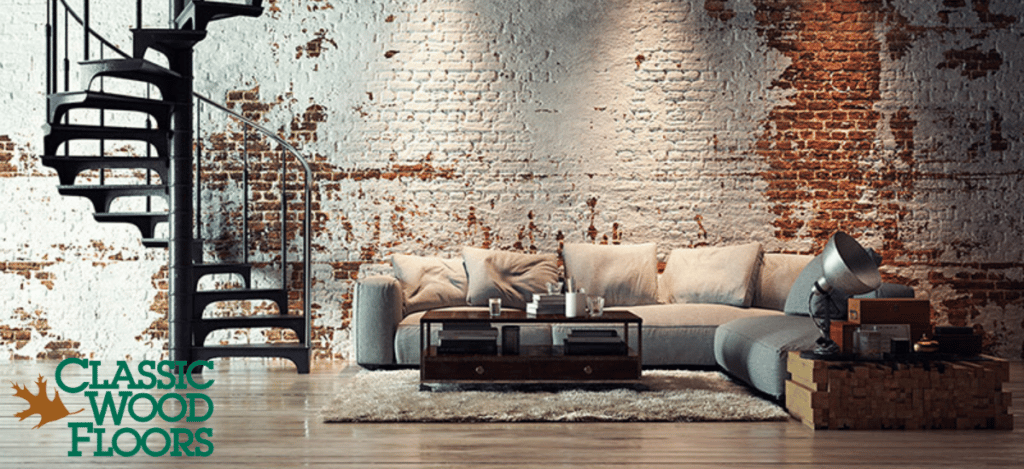 We all have our own style, from the clothing in our closet to the home we purchase. But how can you know which type of flooring will look best in your home? In this guide, we'll help you determine the best flooring style for your space – by considering both your home architecture and your personal interior design style preferences.
Home Architecture & Flooring
First – let's talk architecture. What style of home do you have? Note that the state in which your home is located can influence both your home's architecture as well as local design trends. You might bear this in mind, if you prefer to keep the look consistent with the local aesthetic. Knowing whether you have a bungalow, ranch, cottage farmhouse, mid-century modern, Mediterranean, Cape Code, contemporary, colonial, Tudor, Victorian, or cabin will help you narrow down and simplify your flooring choices if you choose to match styles. For example, dark wood flooring tends to look well in Victorian homes, while open-concept Farmhouse homes can match well with light, wide-plank flooring.
Once you have narrowed it down by architecture, if desired, you can refine it by considering your personal interior design preferences. Chances are you already have an idea of what you like, even if you do not know all of the design names. Let's look at the most popular decorating styles to see if you can identify your preference. From there, finding the flooring that coordinates with your interior design taste is much easier.
Flooring Options by Design Style
Victorian Interior Design Style & Best Flooring Combinations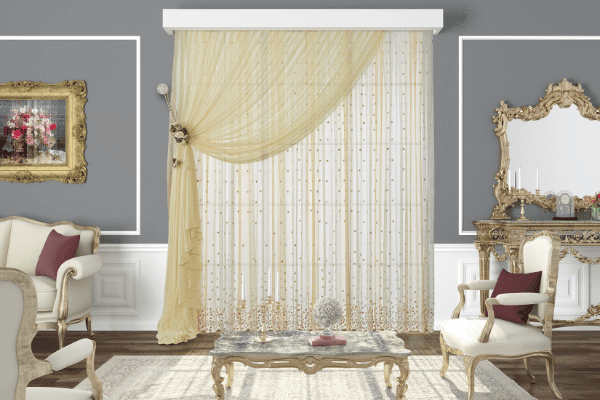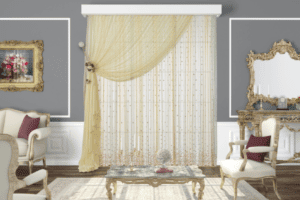 The Victorian design style features beautiful colors and ornate details with the appearance of luxury. In an older Victorian home, more expensive wood flooring was used, such as oak and mahogany, but pine, in 5 ½ – 6 ¾ inch widths, was the most common. To stay consistent with the look of luxury, the pine was stained dark or painted to look more expensive. This same look is continued today. Solid hardwood flooring is the perfect pairing. Don't forget the rug.
Bohemian Interior Design Style & Best Flooring Combinations
Bohemian (Boho) style lends itself toward a relaxing and carefree atmosphere with varied textures, jeweled-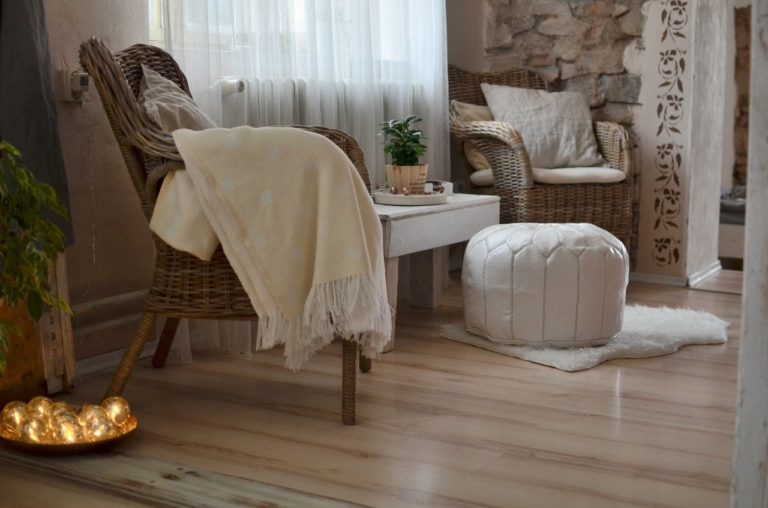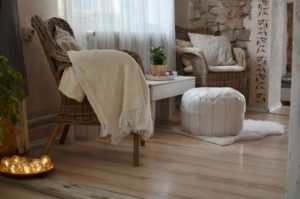 toned décor, and vintage furnishings. It is eclectic and personal and was named after nomadic traveling Romani. Even with a definite style, the furnishings and colorful décor appear to have been carelessly thrown about yet somehow landed in the perfect spot. Wood flooring matches this interior style the best. What better flooring than reclaimed wood with its own character? Exotic species are another good wood flooring option. Rich colors and unusual textures complement as well as an area rug.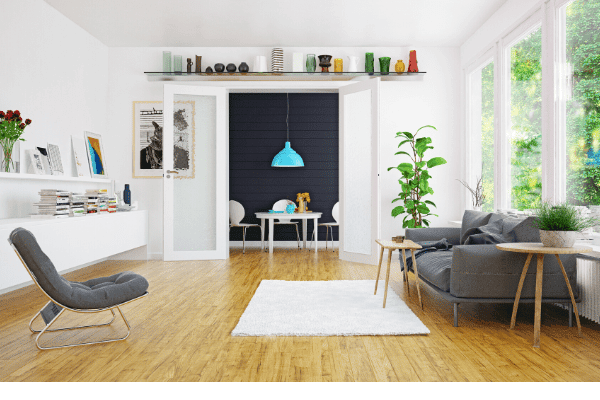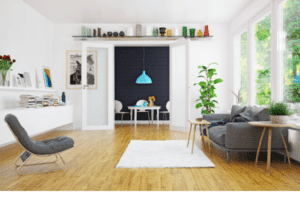 Scandinavian Interior Design Style & Best Flooring Combinations
The Scandinavian design style is one that communicates simplicity, minimalism and functionality. It flourished in Nordic countries where cool whites highlight this design palette. Walls are light or neutral with stylish, simple furniture. Flooring that pairs best is medium to wide plank wood flooring, engineered flooring in white-washed oak, rustic ivory bamboo, or medium stain white oak. You won't see any dark flooring in this interior design style.
Contemporary Interior Design Style & Best Flooring Combinations
Contemporary style involves what is of the moment (current style) or future. Think state-of-the-art materials. Clean and smooth neutrals in wood, tile, and glass, with a light finish that make your "pops of color" stand out in the décor. The flooring for this design style is the same as the materials, wood or tile. Luxury vinyl or a light stain hardwood floor coordinate perfectly.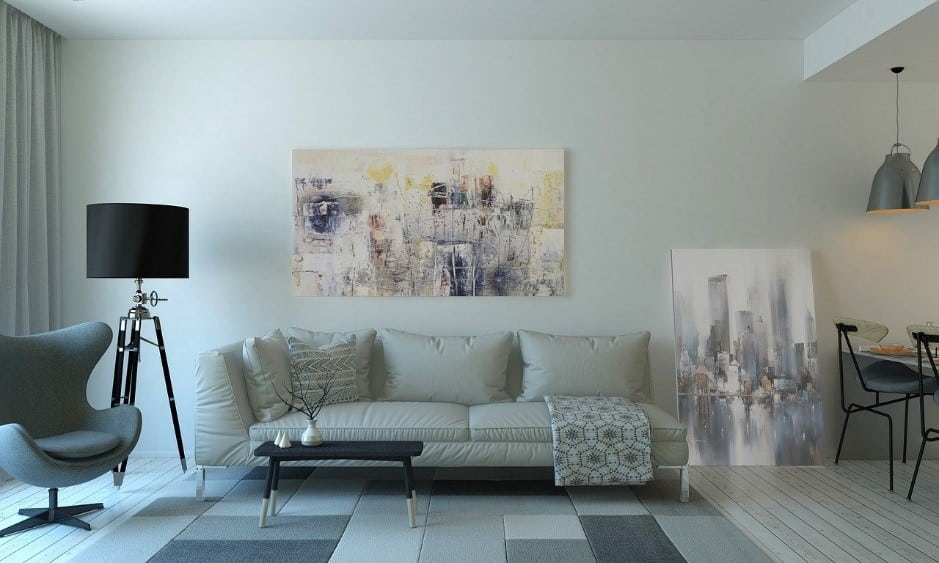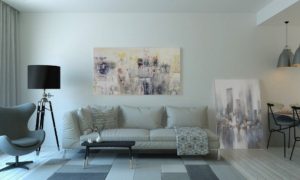 Modern Interior Design Style & Best Flooring Combinations
Modern interior design is often confused with contemporary design style with its functional and visual minimalism. With such extreme simplicity, flooring can be (but doesn't have to be) the creative element. Try geometric or chevron pattern, uniform plank lengths, or gray or natural wood-looking flooring. Natural material is the focus.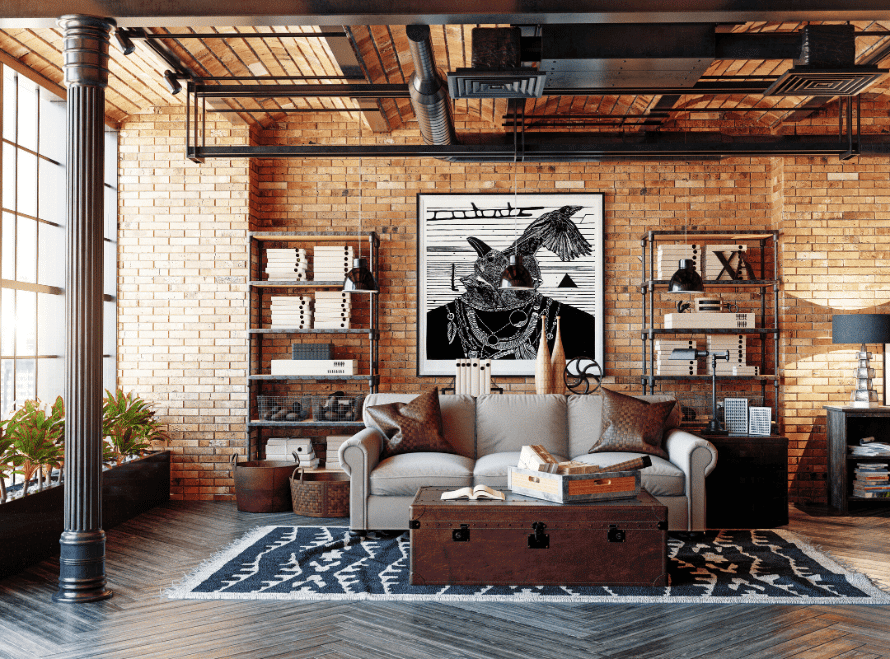 Industrial Interior Design Style & Best Flooring Combinations
Industrial interior design invokes city life. Think exposed brick, open ductwork, warehouse elements. Edgy, urban, raw-looking materials pair well with distressed wood flooring, tiles, hand-scraped engineered wood or laminate. Consider reclaimed wood in a chevron pattern to complement this edgy interior design style.
Vintage/Rustic/Shabby Chic Interior Design Style & Best Flooring Combinations
With roots in antique and vintage French country design, shabby chic style is soft, feminine, and comfortable. Flooring that looks best will be vintage-looking or distressed wood-looking flooring in laminate, vinyl, or engineered wood.  This flooring choice balances the elegant and beautiful with the old and worn, without your flooring really being old and worn.
Traditional/Classic Interior Design Style & Best Flooring Combinations
Traditional interior design style is a combination of comfortable furniture, classic design, and casual décor. Totally predictable, it's the most popular of styles used to decorate homes in the US. Furniture is plush and inviting and wood is always included, whether it's the furniture or flooring. Wood flooring or wood-like flooring made of vinyl or engineered wood completes the inviting look of this popular design.
Mid-Century Modern Interior Design Style & Best Flooring Combinations
Mid-century modern borrows from the 50s and 60s for a clean retro look. Creating a look that is functional and uncluttered with minimal ornamentation is the focus of this interior design style. With a wide range of colors from neutral to bold, flooring is typically narrow plank hardwood with minimal blemish or grain. Walnut and white oak, with a light or no stain, create the perfect pairing.
Art Deco / Eclectic Interior Design Style & Best Flooring Combinations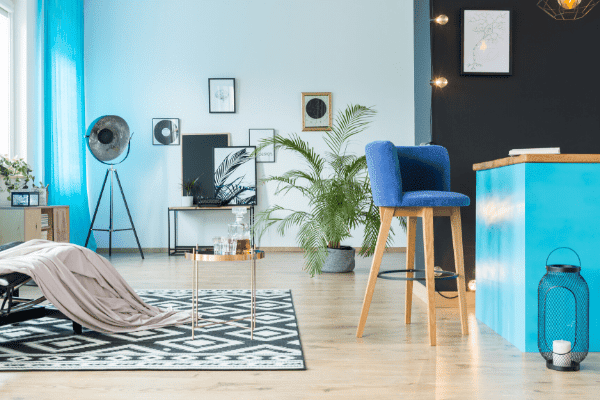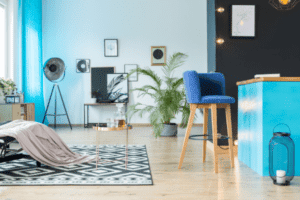 The Art Deco interior design style is a blend of "anything goes." For example, picture a Queen Anne style chair beside a modern coffee table. It's all about the contrast here. With that in mind, the flooring shouldn't be the centerpiece. Any smooth, light or medium wood works best—so as not to upstage the zebra or geometric print rug.
Transitional Interior Design Style & Best Flooring Combinations
Transitional interior design style is a blending of traditional and contemporary design styles. It is fun at its best and a mess at its worst. It should communicate serenity and a sense of cleanliness. Homes with an open layout work well with this design style for obvious reasons. Since it is about blending and creating your own style, light distressed engineered hardwood flooring coordinates well, as does medium to light gray wide plank luxury vinyl. If you stay in the exceptionally light to light/medium range of LVT or wood flooring, you will have hit the target.
Western and Southwestern Interior Design Style & Best Flooring Combinations
Western interior design style is self-explanatory: rustic, wild, cowboy elements paired with a warm, earth-toned palette. In terms of coordinating flooring, consider rustic wood flooring, lodge-look or old brick-looking wood or engineered wood or tile in reddish brown tones.
Coastal Interior Design Style & Best Flooring Combinations
Coastal design is light, bright, and airy with an ocean and sand color palette. Bring the beach to your home with natural finished wood or wood-looking floors.
Modern Farmhouse/Country Interior Design Style & Best Flooring Combinations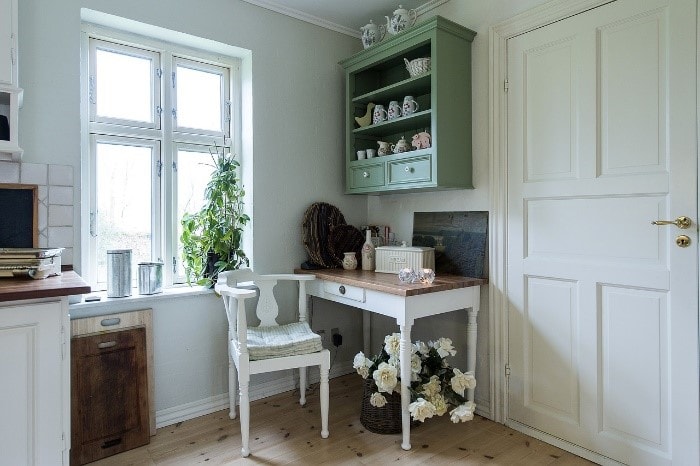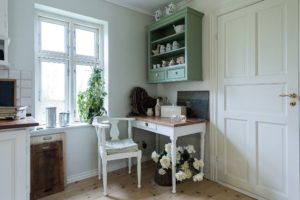 Modern farmhouse style is comfy, relaxed, charming, clean, cozy and inviting. The palette is light while the darker wood plank flooring takes the stage. Distressed-looking flooring in grays, walnut, oak, and natural wood complements this design style.
As you can see, the lines between design styles are not sharp and distinct. Knowing what sets each style apart from the other and knowing your style preference will narrow down your flooring choices. You are free to choose any flooring you prefer, but know that certain flooring options are better suited to certain decorating styles.
Your flooring has a huge impact on the overall look of your home. Your choice of flooring needs to be more than an afterthought when designing. Flooring and décor go hand in hand. Ultimately, there is no right or wrong combination. It's your home and you want to love living there. By coordinating your design and flooring styles, you can create a space that is uniquely yours. If you need more inspiration, take advantage of our showroom and our online gallery.
We know it's hard to look at flooring samples in a store and picture how is will look in your home. Let our trained flooring experts help you narrow down your choices based on your taste and home style. We have years of experience helping customers find great flooring for their homes.