Is Your Carpet Hiding Hardwood Underneath It?
It's hard to believe today, but there was a time in our not-too-distant past where the fashionable thing to do with hardwood flooring was to cover it up with carpet. If you live in or have recently purchased an older home and suspect there might be hardwood waiting to be discovered under your carpet (or even your linoleum; it was fashionable to lay linoleum over hardwood in the 1970s), there's an easy way to check.
Supplies to have on hand include:
Pliers
Flashlight
Pry bar
Buffer
Vacuum
Hardwood floor cleaner
Wood putty (in matching color)
Finish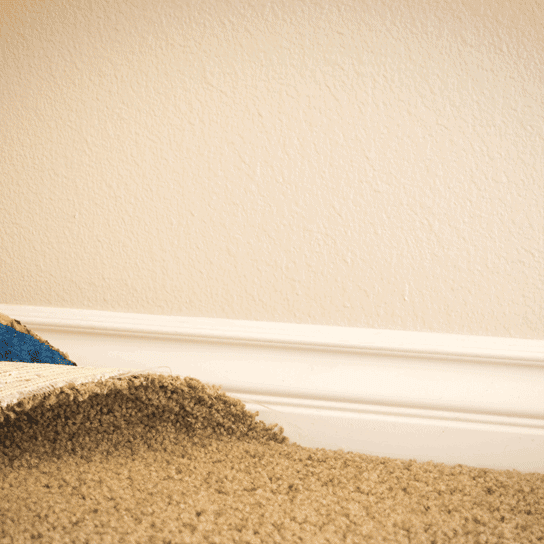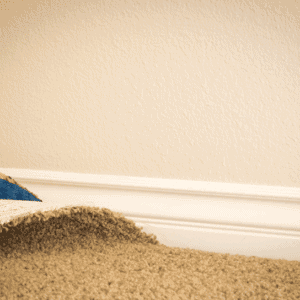 When on the hunt for undiscovered hardwood, begin your investigation in a lesser-used part of the house (like an upstairs hall, a closet, or somewhere discreet). You'll need a pair of pliers by which to pull up the carpet and the padding beneath it. Then grab your flashlight to scope out your find. Keep in mind you'll want to do this in various places around your home as, if you do have hardwood, it might only be in certain rooms or areas.
Your options for moving forward will depend on what you find. Uncovering a plywood underlayment might be disappointing, but you have the option of installing new hardwood floors (and Classic Wood Floors is here to help with that!). However, if you have genuine, bona fide hardwood, take a moment to celebrate.
Uncovered Hardwood Restoration
Unsure how to tell if what you uncover is real hardwood? There are a few ways you can be doubly sure. Is the plank loose? If so, look at the side. Rather than layers that look like they were crammed together, real hardwood planks will have a continuous grain. If the plank isn't loose, this is where your pry bar comes in. Anything you pull up can be repaired later. Once you have a board pried up, take a look at the wood grains. Still not sure what you have on your hands? Give us a shout and we'll be happy to help.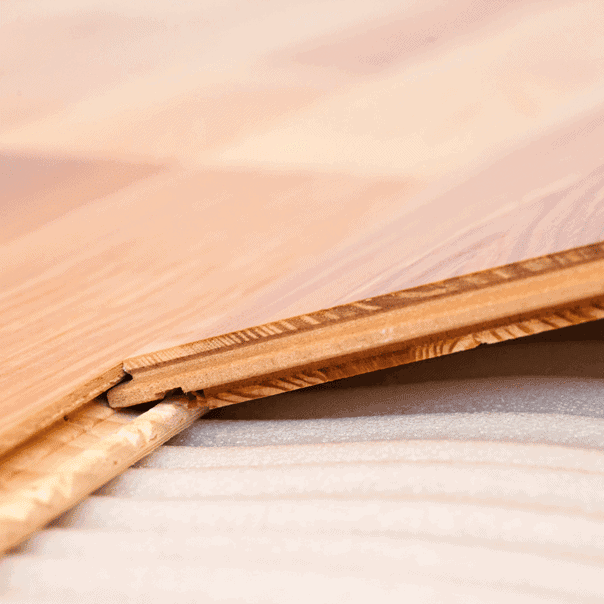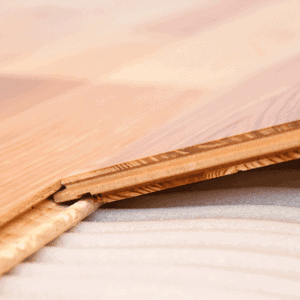 If your home is sitting on a treasure trove of hardwood, the species will depend greatly on the period in which your home was built, what was available and most affordable at the time. Your method of restoring should start with identifying the type of hardwood and following any recommended approaches specific to preserving it. Odds are good you'll need to refinish whatever you uncover and should likely start with a buffer to scruff-sand the floors.
Check for scratches; less extensive scratches can be addressed with wood putty, but deeper scratches will require more attention. Once your hardwood has been sanded and the scratches mended, it's time to start thinking about finishing. There are various pros and cons to the stains you might select, so be sure to carefully consider what options make the most sense for you, your home, and your hardwood.
Restoring your home's original hardwood is a great way to increase your property value. Don't hesitate to give Classic Wood Floors a call if you need help along the way.