You have made the decision to put in hardwood flooring. With the help of our selection guide, you've chosen the perfect hardwood floor for your home. Now it's time to consider hardwood floor stain options and hardwood floor finish options that will not only look beautiful for years, but will also protect your investment. Here's a guide to help you navigate hardwood floor stain and finishing options.
Just as nature protects wood with bark, hardwood finishes protect the floor beneath. Your hardwood staining and finishing options will make a difference in the look, wear, and durability of your new hardwood flooring. We're here to help, whether you need a new stain or finish on your existing floor – or are just making your initial hardwood stain selection. Doing your homework ahead of time, or at least thinking about the look you want, helps our team direct you toward the best finishing options.
TO STAIN OR NOT TO STAIN YOUR HARDWOOD FLOORS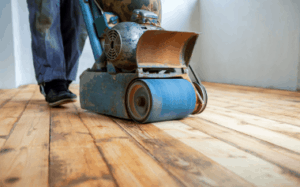 Your flooring choice will have a huge impact on the look of your home. Getting it right the first time can spare you expense and stress. Whether you are sanding old wood floors, restoring old hardwood floors, or having new hardwood flooring installed, sealing your wood is the first step in maintaining the durability and beauty of your hardwood floor.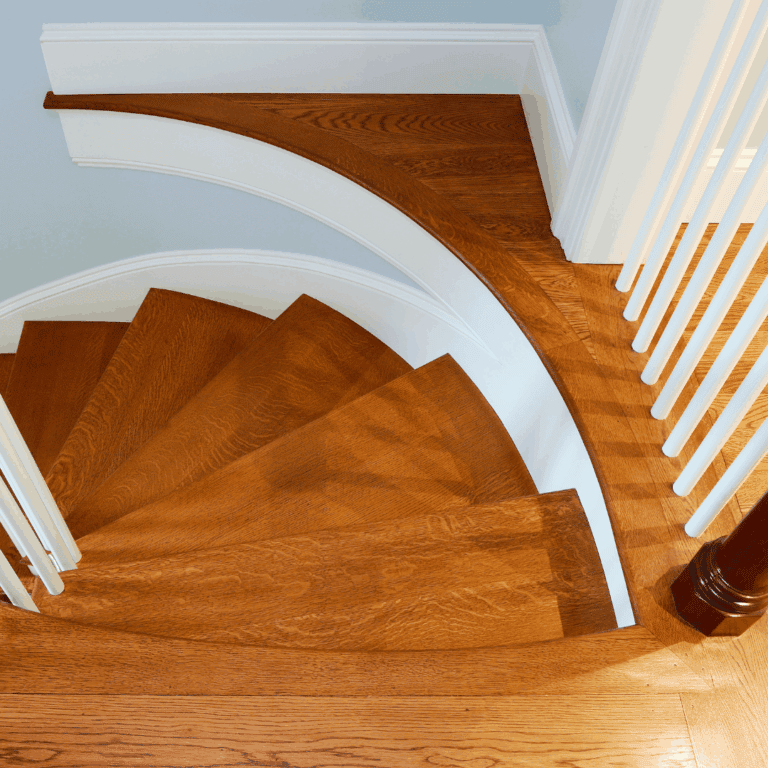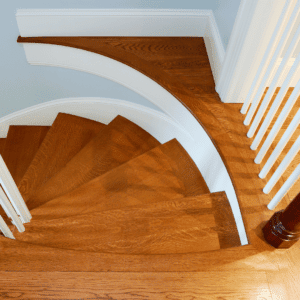 Hardwood flooring stain can be your first sealing coat, the first layer of bark so to speak, if you choose to change the natural color of the hardwood. Bear in mind, some wood types, like exotics, are not well suited to staining due to their cellular structure. In addition, some wood is very difficult to stain evenly.
Whatever your taste, light or dark, red or brown hues, and everything in between, we can help you choose a wood floor stain that matches your taste and style as well as suggesting the type of wood for the look you're after. Hardwood floor color options come in a wide range from pale white to the darkest black. In addition, custom colors can be created for your perfect match. Keep in mind that staining options are just that: options. If you love the look of unfinished wood or possibly other hardwood floor surface treatments, like bleaching, talk to our hardwood flooring experts.
WOOD FLOOR FINISHES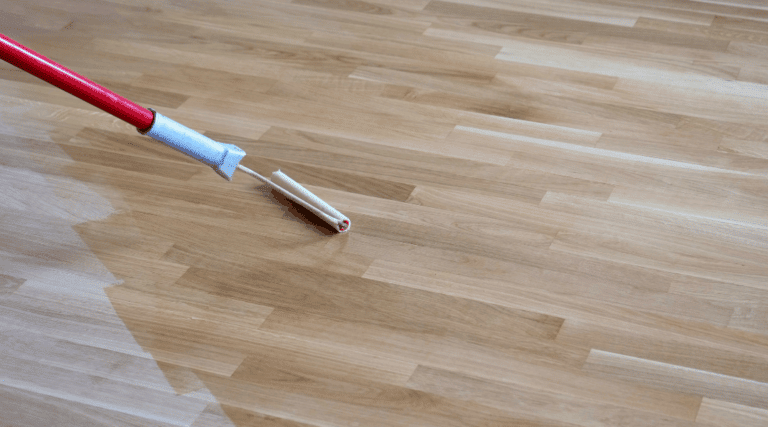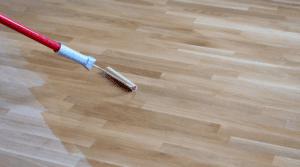 After deciding whether or not to stain, and completing that process, the next step will be either a water or oil based hardwood finish.  Just like a stain, your selection will depend on the type of wood, the look you are envisioning, and the color and grain of your wood.
Water-Based Polyurethane is a fast drying hardwood flooring finish that shows brush strokes and applicator marks. Flooring professionals prefer this type of finish. The finish is lustrous and provides the traditional hardwood flooring finish that many desire.  High gloss can be achieved by using several coats of this type of finish. If you like the natural look of your hardwood floor, stained or bare, this goes on and dries clear.
Pros: This water-based hardwood finish lets the natural color of the wood come through, and it is recommended for many types of exotic woods. Due to the water base, it is considered more environmentally friendly. It is water-resistant, once the resins have hardened.
Cons: This type of finish is almost, but not quite as durable as an oil-based finish. That doesn't mean it isn't durable. On a scale of 1-10, it is an 8.
Oil-Based Polyurethane is a hardwood flooring finish that has an amber hue. This tint alters the color of the wood. It is more forgiving with brush strokes and applicator marks than its water-based counterpart.
Pros: This finish enhances the color of certain species of wood like walnut and red birch. On a scale of 1-10 in durability, it is a 9.
Cons: The drying time for this finish is longer than a water-based option, and fumes can be strong. Opening windows is recommended, but fans blow particles that can settle into your finish. Some view the amber color change as a negative feature of this type of finish.
Moisture-Cure Urethane is a durable flooring finish that's tougher than water and oil-based polyurethane. It dries extremely quickly, so an expert would need to apply this – to avoid lap marks. Lap marks occur when the already dry layer overlaps the new, wet layer during the application.
Pros: This wood flooring finish option is good for high-traffic areas and homes with kids and multiple pets. Several coats can be applied in one day, when the conditions are right.
Cons: Due to the high VOC content, a respirator and good ventilation are needed. It is sensitive to low-humidity, which extends drying time.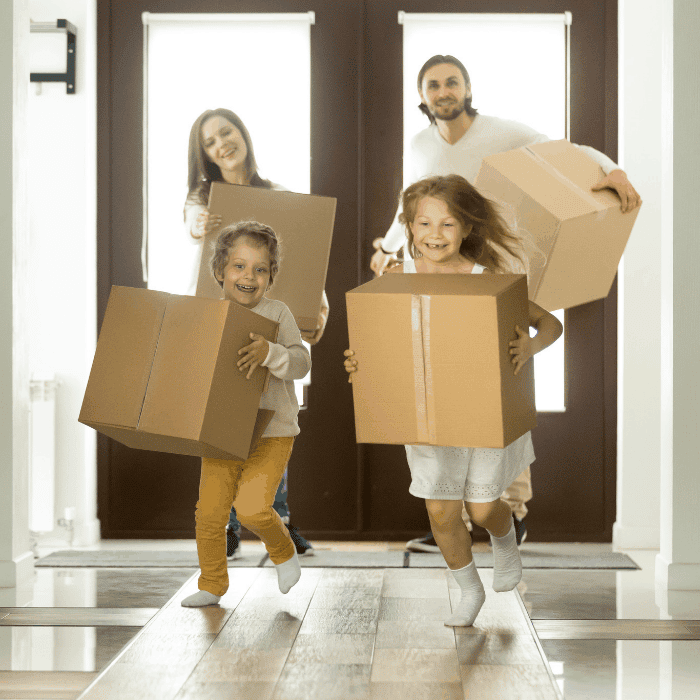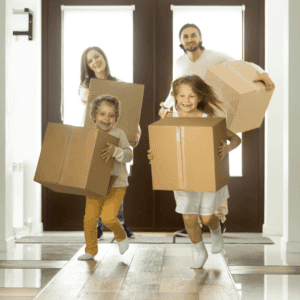 Wax, also known as hardwood finishing wax, has been around for quite some time. Hardwood floor wax soaks into the pores of the wood and hardens. Often combined with a stain, it's a low-luster, slightly amber-tinted finish.
Pros: Hardwood flooring wax finish is low odor, quick drying, fairly durable, and low sheen.  It is an inexpensive finish that you can be reapply as needed. Some love the old-world charm this type of finish offers.
Cons: Wax is vulnerable to water and scratches. This finish option is not very durable and darkens or yellows over time. Some see this as a negative feature, while others love the natural aging of a wax flooring finish.
Penetrating Sealer – also called hardwood finishing oil – like Tung or Linseed oil is a wonderful option for rustic or reclaimed wood flooring.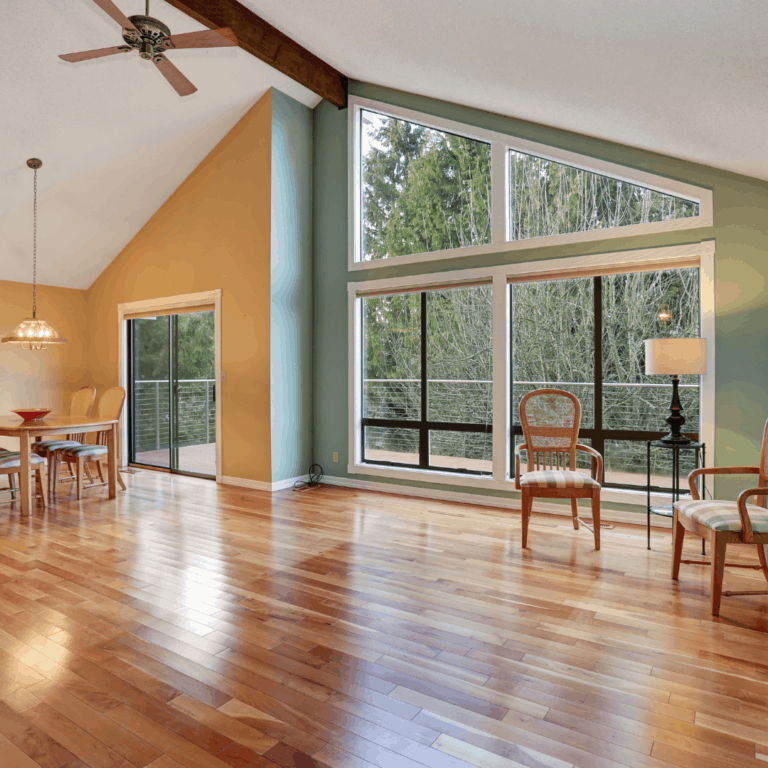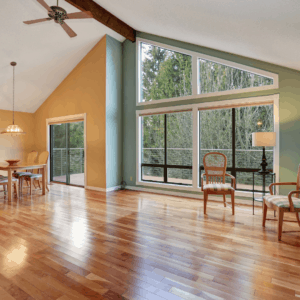 Pros: Floor finishing oil is a natural product that is sustainable and environmentally friendly. Touch-ups can easily be applied to cover scratches.
Cons: Oil is slow to dry and requires several coats with sanding in-between. When it's time to refinish your oiled hardwood floor, you will need to remove the finishing oil by sanding it down.
Knowing what to expect with the stain and finish of your choice takes thought and discussion. You want to protect your investment and ensure the appeal of your flooring. With the proper hardwood finish, your beautiful hardwood floors will give you years of use and beauty in return.
Check out our floor finish options in our flooring image gallery, for inspiration, as well as the National Wood Flooring Association's guide on hardwood flooring finishes. If you're ready to explore your wood floor stain options or finish possibilities further, contact us or visit our showroom. We offer a warranty on every product we sell, and we aren't content until you are completely happy!